SAVE MAIN's Fight Against Apex 400
Will Continue in the Illinois Appellate Court

On July 30, 2020, Judge Bonnie Wheaton granted the Village's motion for summary judgment. She found that there was no chance that anyone would prove a key factor in the case which was that there was no rational basis for the approvals of the planned unit development. The long-term implications of this key site for the future of our village are far too great for Save Main to walk away. In light of substantial evidence presented in opposition to the ruling, the Court was informed that the decision will be appealed.

Save Main feels that grounds for an appeal of this ruling are strong based upon the thousands of pages in planning documents, reports and ordinances since 2001 that consistently and repeatedly speak to protecting the scale and established image of Main Street's core retail area. The 2009 Downtown Strategic Plan specifically noted that the South Main Parking Lot should host 30 units in a building with a two-story appearance and building heights of two stories on Main Street (three if the upper floor is set back). Apex 400's scale is the antithesis of what the village ordinances, plans and reports had in mind for this site. Note that there is already one appeal pending.

Citizens for Glen Ellyn Preservation will make the transcript of the July 28, 2020 hearing available once they have it. In reviewing it, Citizens hopes that residents will continue to remain vigilant and attentive to the actions and planning efforts of the Village President, Village Manager, Village Community Development staff, and the Board of Trustees.
Thank you for your support in a battle that, on July 30, 2020, became an extended one that now involves a full review of all of the evidence, findings, and the court's rulings. Citizens and the other plaintiffs remain undaunted in obtaining a full and proper review of Apex 400.
May/June 2020
In honor of Preservation Month, Citizens for Glen Ellyn Preservation is hosting a series of posts highlighting some of the places in Glen Ellyn worthy of special recognition. Our series is called "THIS PLACE MATTERS".
Post 2: The Glen (now officially known as The Glen Art Theater)
Post 1: The Downtown Glen Ellyn Post Office
November 2019
THE PATCH HEADLINE IS INACCURATE
The lawsuit is not over. There are at least two substantive counts remaining that will be heard in early November. We remain strongly committed to this effort.
Keep those Save Main Yard Signs up!

Request a yard sign

Donate to the SAVE MAIN

THE LATEST
Did you know...
It can be done. Other towns have successfully achieved smaller scale mixed use developments which are economically viable by partnering with developers on more than one development project at a time. Here is a great example from Mount Prospect: The Shops and Lofts in Mount Prospect.
Apex 400 will be 5 stories tall - 2 stories taller than our current comprehensive plan and other planning documents recommend. It will sit at the highest point of our downtown, on our Main Street, and directly abut our downtown Historic District.
We can do better. Please help Fund the Fight
Did you know...
The question is not *whether* we should be looking to grow and develop, but rather *how* we do this in a way that enhances the distinct character of our Village. Smart towns all over the world are addressing these challenges; the best of these towns take the time to engage the public in a meaningful way, create a strong vision for the future, and consider how to maintain a distinct and compelling identity. What is our shared vision for the future?

"A successful town or city has a clear sense of direction and a widely shared vision. There is genuine engagement with communities and leadership at many levels. Creative ideas are encouraged and freely exchanged between people and government. In a successful town or city, local governance is effective, efficient and confident. Leaders are prepared to take risks to deliver the best outcomes, but priorities and trade-offs are made explicit, and the benefits and costs of decisions are understood. Decision-makers think holistically and creatively, and they learn from mistakes. They work in partnership..."

Two Attributes of successful towns and cities - Ministry for the Environment Article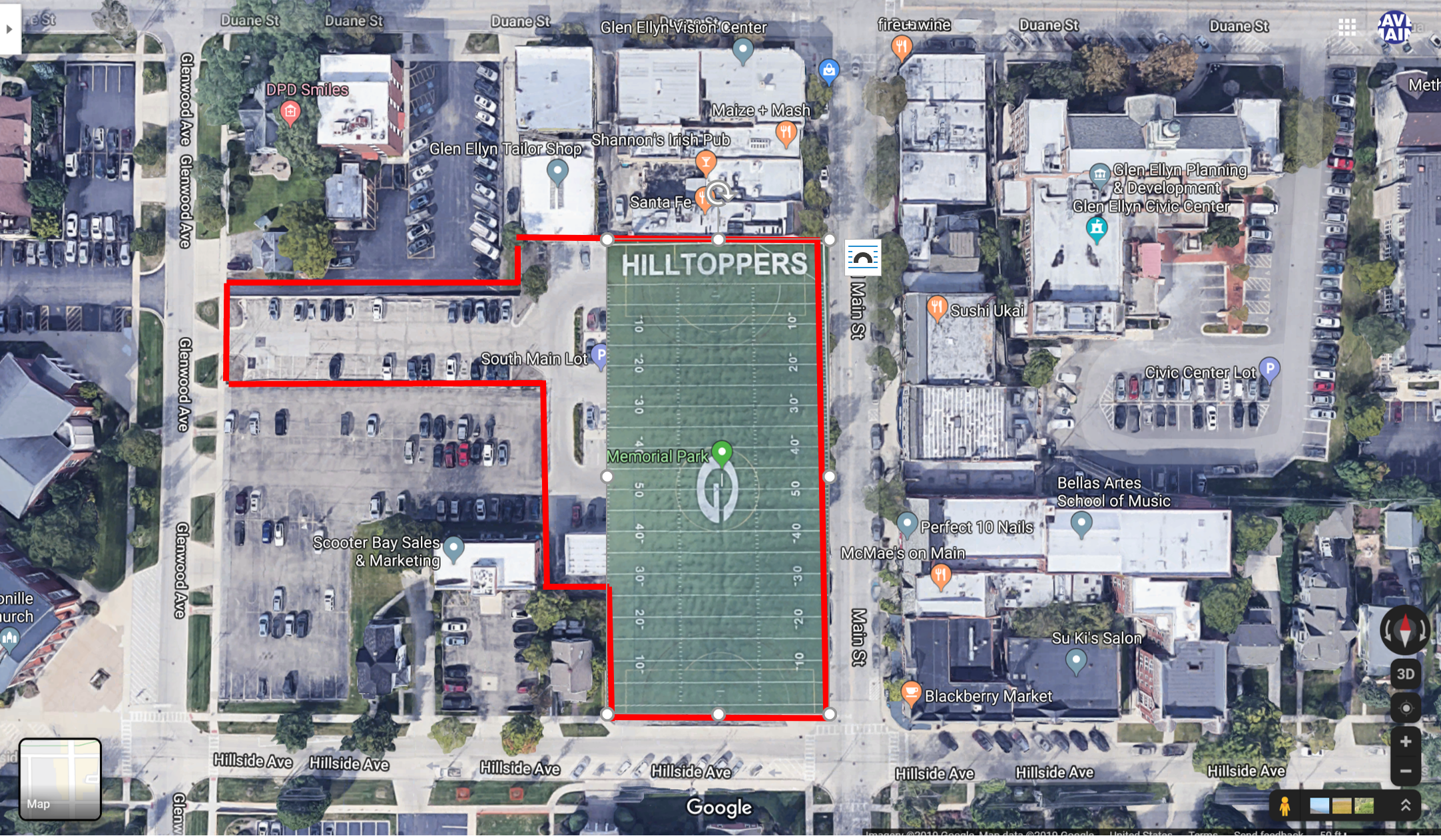 Did you know...
Apex 400 is designed to be 323.5 feet long, extending from the SW corner of Main/Hillside to the north end at Santa Fe. It incorporates the former Giesche property as well as the public parking lot and Millennium Clock. As such, it is roughly equivalent to a football field in length.
Save Main supports smart, responsible, and context appropriate development. You can help Fund the Fight

GIESCHE BUILDING/SITE
Learn about the proposed Giesche Building plan from July 2019.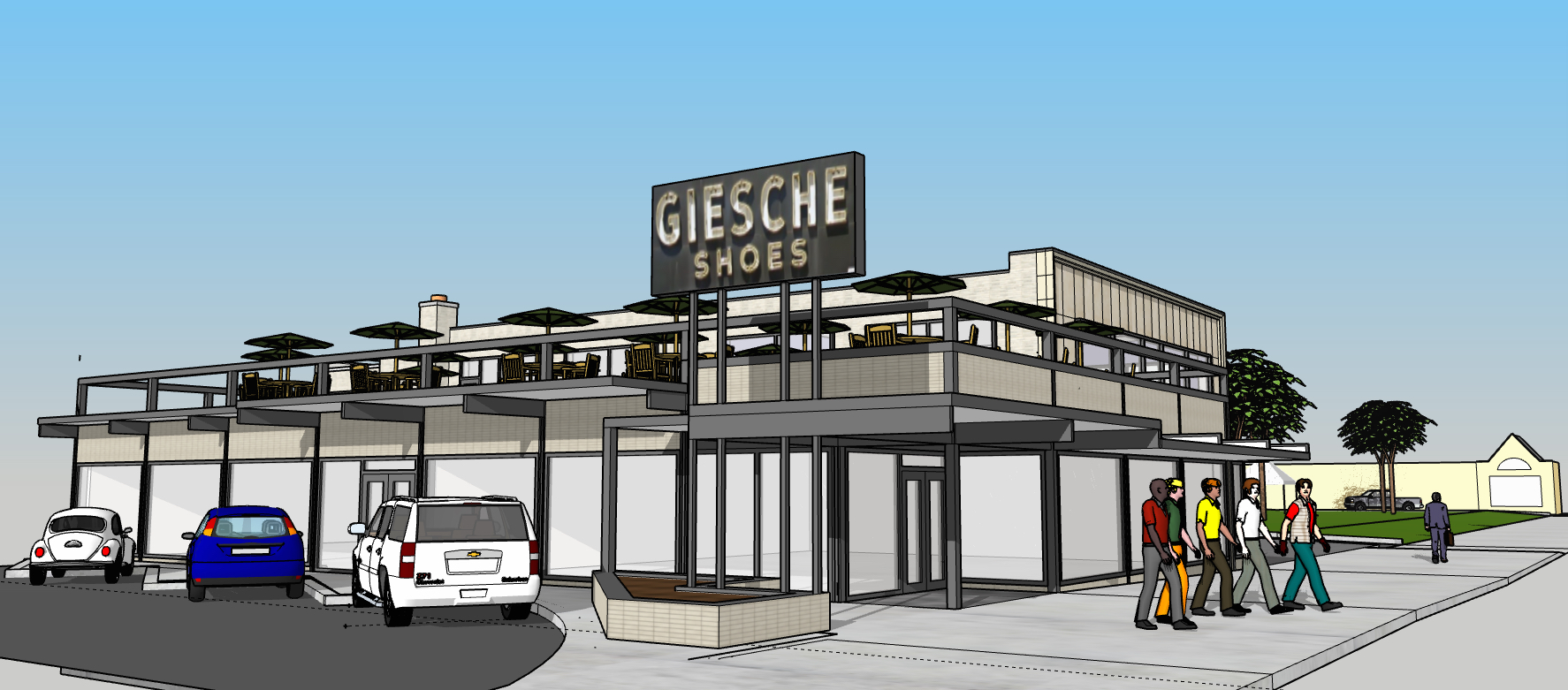 Your Voice Matters!
Save Main supports smart development that promotes economic growth in Glen Ellyn while preserving the unique identity, distinct charm, and historic character of the village. We oppose the five-story, mixed-use development known as Apex 400, which fails to comply with existing Village legal planning requirements. We believe that a development of this scale and style will dominate the skyline and forever diminish the character of our town.
Visit savemainge.org to:
- Learn more about the cause
- Find out about upcoming meetings and events
- Keep up on the latest news
- Request a yard sign
- Volunteer

Please consider a donation to Citizens for Glen Ellyn Preservation - SAVE MAIN. This will help us generate awareness through signage and newsletters and fund any legal fees needed.

DONATE HERE