Giesche Building/Location
July 25, 2019
The alternative plan below was presented at the HPC meeting, pointing out that there are alternative plans for this site that are viable. Currently this concept is being presented to potential investors and tenants.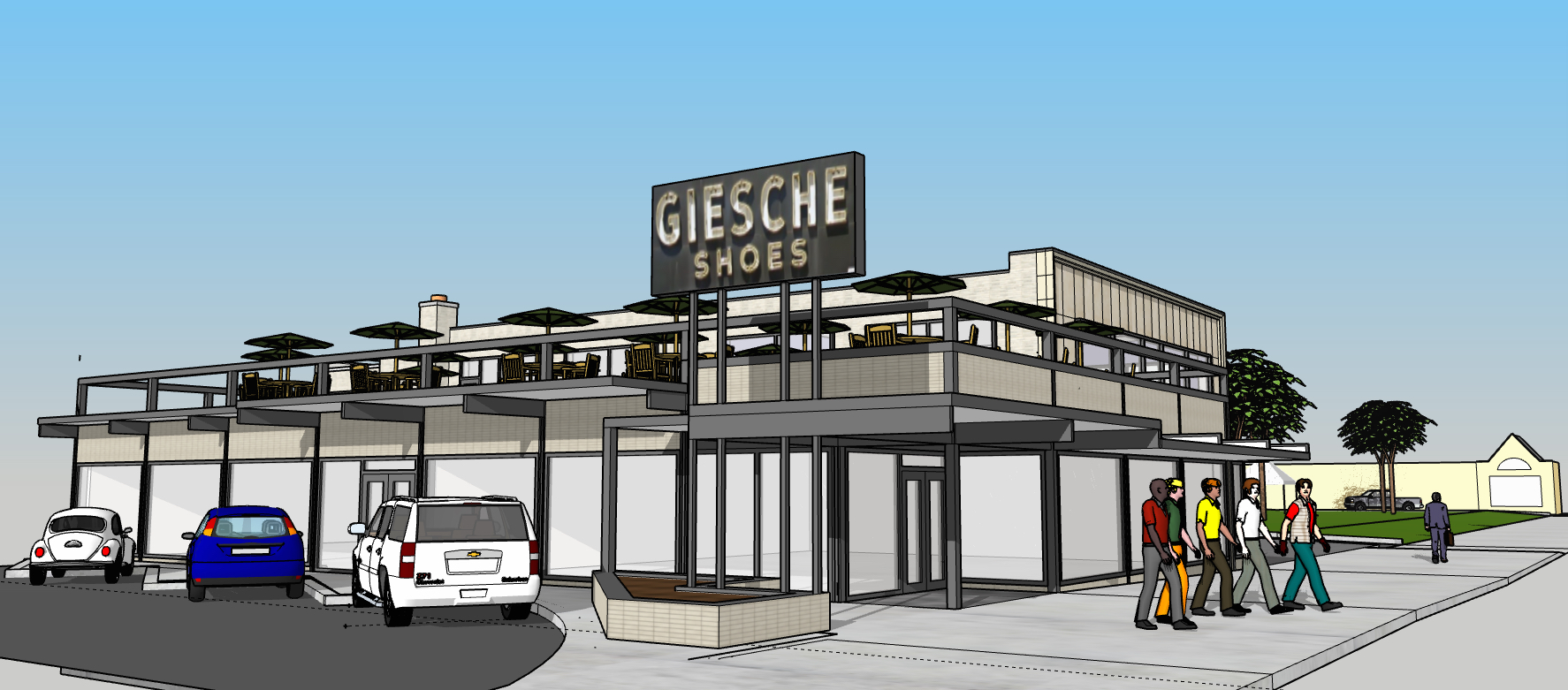 Many are concerned about the shortage of parking this plan would create, but that could be addressed over time. We would start repurposing the building, while keeping the parking lot and slowly incorporating the green space as parking developed in other nearby areas of Glen Ellyn.

Consider the pluses from this proposal:
- The southern down town would not be torn up for 18-24 months severely impacting businesses in the down town.
- A historic cornerstone of the downtown would be saved. The Historic Preservation Commission just determined that the Giesche Building met at least 8 of the 10 criteria for land marking. No other building in Glen Ellyn has ever met that number, most meet 2 or 3. It would honor the contribution Thor Giesche made as a B-17 pilot in World War II, contribution to Glen Ellyn commerce for over 50 years, preserve a mid century architectural building, designed by a local Glen Ellyn resident who designed many contemporary homes in Glen Ellyn.
- The National Trust for Historic Preservation points out that people are drawn into older historic towns which preserve its rich history and architecture.
- This would not cause the huge impact on our town that a huge monstrosity such as Apex would cause.
July 18, 2019
On Thursday, July 18, the Village of Glen Ellyn's Historic Preservation Commission passed a resolution, unanimously voting 5-0, to make a preliminary determination for Landmarking the Giesche Building. Citizens for Glen Ellyn Preservation, headed by President Mike Wilson, submitted the application on May 6 of this year.
The HPC determined that the building qualifies to be landmarked, meeting 8 out of the 10 criteria possible for landmarking. To be landmarked, a building only needs to meet two criteria. Giesche carries the strongest merit of any historic building in the Historic Preservation Commission's history.
The next step will be for the Village of Glen Ellyn, within 15 days, to send the owner of the Giesche's building, Main 400 LLC, a request to landmark their building.
Click here to view a PDF copy of the application, which provides rich historical and architectural informationon on the Giesche Building, plus additional back up material.