News archive

giesche Building - Summer 2019
Learn about the proposed Giesche Building plan from July 2019.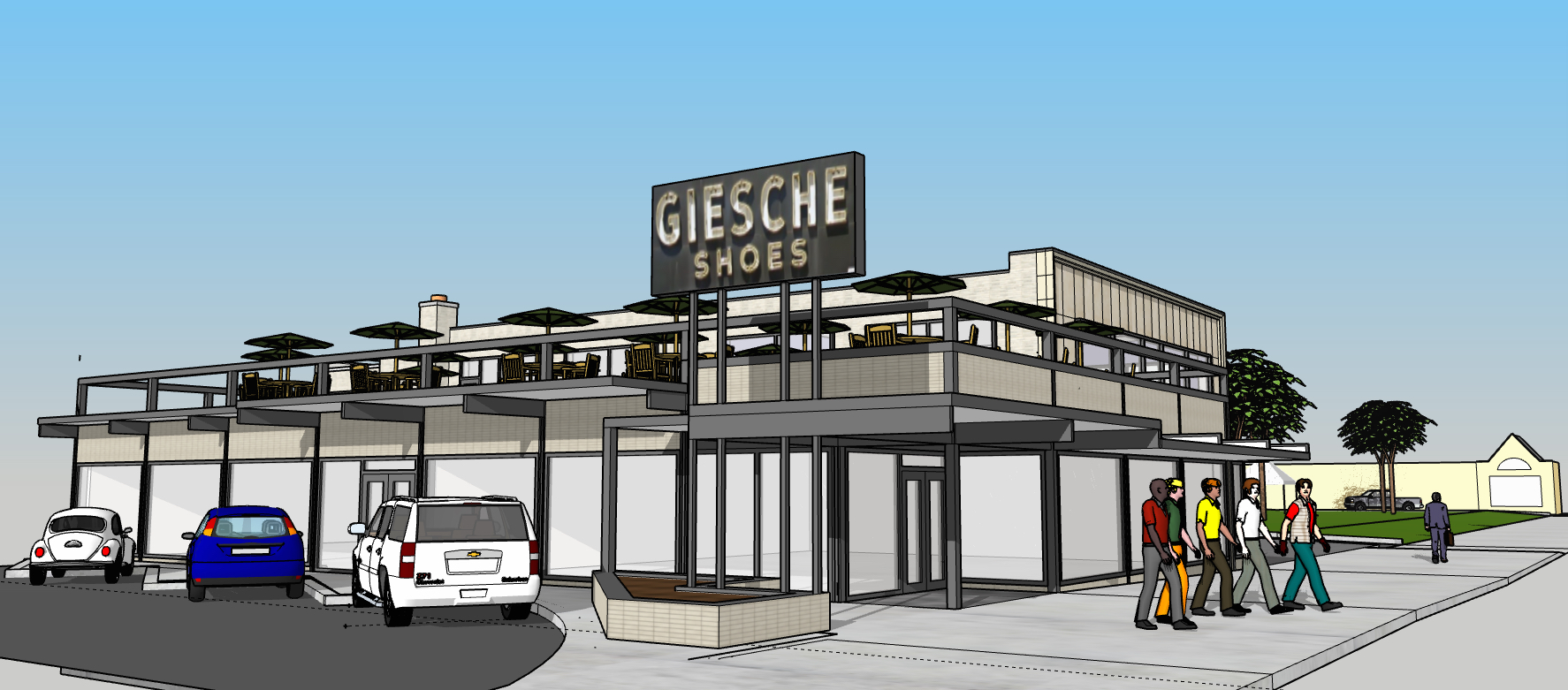 McKee House - March 2019
Visit the McKee Preservation Group website to learn more and how you can help.

Stadium light towers in the heart of town - October 2011

The board and many members of Citizens for Glen Ellyn Preservation are deeply concerned that the negative impact of 7-story stadium lighting aligned along Crescent Boulevard will irreparably harm the character of the village. Given the prominent location of the historic Glenbard West campus, which is surrounded by residential neighborhoods and our traditional downtown, glowing light towers that would be well above tree level and seen for a great distance would harm an essential part of what makes our town so unique.

Concerned residents have also identified serious safety issues along with the glaring lights and noise until 9:30 p.m., six nights a week, 3 seasons a year, that will have an unacceptable, detrimental impact on the quality of life for neighbors many blocks away from the school.

On October 12, 2011, the CGEP Board presented a letter before the Plan Commission, where D87 is requesting 9 variances to convert Memorial Field into a mini-stadium. Click here to view a PDF of the letter.

Click Here to see the list of 9 variances needed to convert Memorial Field into a mini-stadium.
Click Here to read a letter from former Village President Joe Wark.Click Here to read the how the 1/3 1/3 1/3 funding for artifical turf became $1.6 million in debt for the school district.
What happened to tree preservation in our village?
Click here to find out.

tree Preservation update

As we have reported, the amendments to the village Tree Preservation Ordinance that were proposed over 4 years ago, were sent back by the Village Board to the Environmental Commission, which is still in the process of reviewing its original recommendations. At last month's commission meeting, village staff made suggestions as to how the current ordinance might be better implemented. However, there were no recommendations for actual preservation for trees on private property, which is a particular problem during demolitions and new construction. The village forester reported that there is very little evidence of unnecessary tree removal by residents on their own properties and, in fact, the majority of residents seem to be quite protective of their trees. The 2007 CGEP survey of residents, which showed 79% in favor of village protection of certain desirable varieties of healthy trees within the unbuildable area of private property, supports this view of a community-wide love for trees. Only 8% of those surveyed did not want tree protection, leaving 13% who wanted more specific information about the proposed amendments before they decided. The area covered was well-wooded with a mixture of vintage and new homes.


Historic McKee House at Risk Again - September 2011


Citizens for Glen Ellyn Preservation is working to form a coalition to preserve and re-adapt the historic stone McKee house and outbuildings at Churchill Woods Forest Preserve on St. Charles Road for public use. Completed in 1936 by CCC workers from Camp MacDowell of locally quarried limestone, these beautiful Colonial Revival structures were given to the residents of DuPage County by the WPA as headquarters for the DuPage County Forest Preserve, a residence for the superintendent and as a place for local nature-related organizations to meet.
Click here to read about recent issues.
Click here to read about the history and architecture.

The Historic Landscape - May 2011
CGEP sponsored a special workshop The Historic Landscape, on landscape preservation Saturday, May 14, featuring landscape historian Barbara Geiger, adjunct professor at IIT, The School of the Art Institute of Chicago and The School of the Chicago Botanic Garden. Members and friends heard a interesting overview of the complex idea of landscape preservation and restoration. This event was paid for by donations from our membership.

Click here for the landscape preservation outline and resources guide provided by the speaker (pdf).

Park Board Candidates answer our survey - March 2011

For a number of years our organization has put forward surveys to candidates running for office in Glen Ellyn. This is a unique opportunity for these individuals to express their personal views on topics that may be of interest to not only members of CGEP but also to residents throughout the village.

The most vital aspects of our beloved parks, the trees, open land, lakes and historic buildings, are of great interest to our residents, as shown time and again in village, park district and CGEP surveys. Therefore, candidates running for Park Board were asked 8 questions related to these interests, which were formulated by the Executive Board of Citizens for Glen Ellyn Preservation. Click here to read a PDF of the responses from the following candidates for Park Board: Kathy Cornell, Richard Dunn, Catherine Galvin, Ed Hess (incumbent) and Gary Mayo.

Election day is Tuesday, April 5 from 6:00 a.m. to 7:00 p.m. at your designated polling place.
VOTE!
Elections for our village board took place at the Glen Ellyn Civic Center, this Saturday, December 4 from 8:00a.m. to 4:00p.m. Your vote to choose local candidates was of great importance to what will happen to the character of our village over the next 4 years. Click here to read updated (Dec. 4) candidate responses to important preservation and tree protection issues. (An additional candidate sent answers to the questions December 4.)
We asked Barb Lemme, a member of the Civic Betterment Party Nominating Committee: What are the criteria used for vetting candidates for village board? Her answer is below:
There is no "official" set of criteria beyond the obvious. We each know what the job of trustee entails, and each of us evaluates the candidate based on a perceived ability to successfully fulfill that role, make a positive contribution to the village, and to work well with other trustees, the village staff, the community, etc. I see this as one of the strengths of the Nominating Committee, as it is a fairly large group, representing the various elementary school areas, and very diverse. It is not a closed club, a secret cabal, etc.

As for myself, I look for professional experience that may benefit the village, as well as personal qualities that I feel help make a successful trustee (e.g., ability to communicate effectively, willingness to listen, work ethic, analytical as well as creative thought, sense of humor, love of the village). I have no litmus test, but of course I am interested in each individual's views of current issues within the village (especially in terms of development, preservation, appreciation of history), and I would be wary of those who seem to have their own single issue agenda. I also feel we should strive for diversity on the board, in terms of age, gender, political and social affiliations, professional background, etc.

I'm sure others on the committee share many of these views, though we may weight them differently. And each of us brings a unique perspective to the task.
Barb Lemme is a partner in Sign of the Whale Antiques, 558 Crescent Blvd. and serves on the board of Citizens for
Glen Ellyn Preservation.



2010 Historic Home tour

Saturday, October 16 was a glorious fall day for our 2010 Historic Home Tour and apparently a lot of you thought so too! More than double the usual number of tickets were sold for this unique opportunity to step into five of our village's beautiful vintage homes. We were touched by and grateful for your enthusiastic support.
Months of hard work by our many dedicated volunteers made much of the day possible. At the same time, if it were not for the support of our local business community, special events like this could not continue to take place. I hope you will join us in thanking and supporting these members of our Glen Ellyn community who step forward time and time again.


Glen Ellyn History Park at Risk

Dear President Pfefferman and Trustees of the Village Board,

Recently, members of Citizens for Glen Ellyn Preservation have become aware that, like local governments and businesses across the country, the Glen Ellyn Historical Society has felt the strain of declining income. There has been concern that this venerable organization may not be able to meet its obligations on the debt related to the properties acquired at Stacy's Corners, which were for the creation of a history park on behalf of the residents of the village.

Given the historical importance of this site as the village's original settlement, as well as, the aesthetic and cultural appeal of such an inviting space along the northern gateway to the downtown, we feel that the commercial redevelopment of any part of this property would be detrimental to the character of the village. Therefore, we urge the village board to seek a compromise that would keep this property intact and would allow the Historical Society to complete its mission.

Sincerely,
The Officers and Board of Citizens for Glen Ellyn Preservation

Click here for background on Stacy's Tavern
Tax Credit reform legislation

Unprecedented tax credit reform legislation is pending at both the national and state levels. If you would like to see these come to pass, we strongly urge you to contact our legislators.

For a summary of Illinois HB4823 and SB2559 click here.
To contact Illinois Representative Sandra Pihos to ask her to support SB2559:
email: community@sandrapihos.com
phone: 217 782-8037
To contact Illinois Senator Dan Cronin to ask him to support HB4823:
email: senatorcronin@aol.com
phone: 217 782-8107

For a summary of H.R.3715 and S. 1743 click here.
To contact U.S. Senator Dick Durbin to ask him to support H.R.3715:
go to: http://durbin.senate.gov/contact.cfm
phone: 202 224-2152
To contact U.S. Representative Peter Roskam to ask him to support S.1743:
go to: http://www.house.gov/formroskam/email.html
phone: 202 225-4561
September 2009 - Significant at-risk architectural gems in Wheaton should be landmarked
Just south of Roosevelt Road lies a unique turn of the century residential district known as "The Colony." Designed by renowned architect Jarvis Hunt this historic neighborhood is on the brink of being lost. Click here to read more about this, as well as another famous property at risk: "the Ferris Bueller" house in Highland Park.
July 2009- Historic downtown creates setting for Jazz Fest


Vocalist Tammy McCann conquers Glen Ellyn




By Howard Reich, Tribune critic, July 13, 2009


"

The third annual festival, located along several blocks of the historic Main Street shopping district, offered a case study in how to present a civilized, aesthetically appealing jazz soiree. Because of the narrow confines of the street, the stage area retained an intimacy rarely encountered in outdoor performances. Here was a sterling instance of a community using its built environment to ingenious effect, the low-slung buildings forming a de facto amphitheater well suited to the intimate art of jazz.

" Read more...
March 2009 - Village Government Candidate Surveys 2009
For the last several elections, Citizens for Glen Ellyn Preservation has put forward survey questions to candidates for our Village Board so that they could express their views on important issues. Given the overwhelmingly positive response from both residents and candidates to these previous surveys, this spring we offered the same opportunity to candidates for the Park District Board. Eight candidates are running for four positions. Of these, four new candidates, Melissa Creech, Jay Kinzler, Julia Nephew, and Jeff Dickson, and three incumbents, Keith Schoen, Bill Taylor and Jeff Jourdan, responded by the deadline of Wednesday, March 4, 2009. One incumbent candidate, Ron Aubrey, did not take part. The two candidates for Village President, Gary Fasules and Mark Pfefferman responded to an 8 question survey by the deadline of March 7, 2009.
Park Board Survey (pdf)
Village President Survey (pdf)
Also of interest:
Results of Most Recent Park District Survey of Public Opinion (pdf)
Read the Park District Capitol Projects 5 Year Plan (pdf)
November 2008- Did you miss Blue Vinyl?
If you missed seeing the CGEP/Glen Ellyn Library showing of Blue VInyl, a documentary about the environmental hazards of vinyl building material and would like to borrow the DVD, email Linda Gilbert, lhglbrt@aol.com.
Fall 2008 - Wisconsin Main Street revitalization plan links preservation
and sustainablitly (pdf)
Read what the Candidates for Fall of 2008 Village Board elections
had to say about important community issues (pdf)
A survey provided by CGEP gave all candidates running for Village President and Trustee the opportunity to express their opinions and ideas on a number of topics that are important to our mission of safeguarding the character of our community through historic preservation, planning and sensible growth. Since there have not been any forums during which residents could directly ask questions of the candidates, this year's survey is particularly useful to voters. There are 3 candidates running for Village President and 7 candidates running for 3 positions as Trustee on the Village Board. Surveys were delivered to the candidates' homes and electronic versions were forwarded as well. Three candidates did not respond.
The REAL facts about Ackerman Woods: Corrections to the Park District 'fact' sheet
6/4/08 - Trees safe after Glen Ellyn park district reversal, Daily Herald - But, we're not out of the woods yet! Read the article...


12/16/07 - New Look for the Main Street Recreation Centers